Winemaker Dinner Under the Full Moon
Saturday, August 1, 2020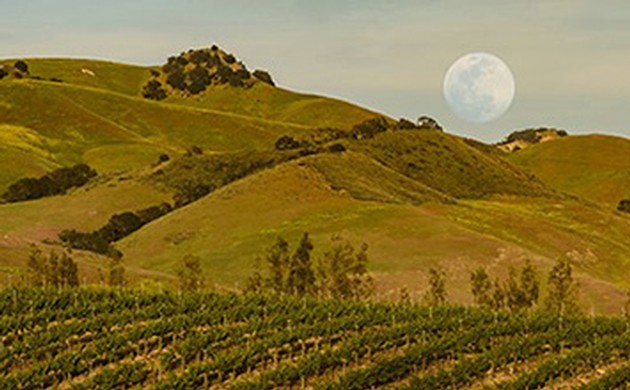 Saturday, August 1, 2020
6pm-9pm
Spend a magical evening with us under the full moon and stars as we dine among the vines. This unforgettable summer dining experience is one that you should not miss! The intimate evening begins with a reception in our Tolosa Wind Sculpture Garden, followed by a seated, multi-course dining experience provided by K'Syrah, nestled amongst the Pinot Noir grapevines in the Monighetti Vineyard.
Wine Club Member Pricing- $150 per person
Guest Pricing - $160 per person
(please log-in to receive discount)
Dine on four sumptuous courses perfectly pairing our estate-grown wines by Winemaker Frederic Delivert with produce from K'Syrah's Farm and other delights.
Appetizers in the Picnic Grove and Terrace
1772 Viognier 2019
Fried Mushroom Risotto Arancini with Garlic Aioli
Wild Caught Scallop
Cauliflower Puree | Bacon | White Truffle Oil
Lamb Chop Lollipops
EVOO | Lemon Juice | Greek Seasoning | Balsamic Reduction
First Course
1772 Sauvignon Blanc 2019
Roblar Farm Salad
Sunflower Seeds | Plums | Pickled Melon Rinds | Citrus Vinaigrette
Second Course
Pacific Wind Pinot Noir 2018
Vichyssoise with Crème Fresh

Third Course
Primera Pinot Noir 2018
Farm Crusted Short Rib
Charred Broccoli
or
Seasonal White Fish

Mussel Brodo | Fennel Pollen | Fennel | Potatoes
Dessert
Lemon Curd Biscuits
Local Strawberries | Thyme
Due to the nature of this event, we are unable to accommodate dietary restrictions or guests under 21 years of age.

All events have been redesigned to reflect the utmost in safety, social distance, and cleanliness as we navigate these times. Please note that these event dates may change due to unforeseen circumstances beyond our control. Please be sure to check the Event Calendar, as we will be updating information and changes as they occur. For more information, please contact Holly Holliday, Tolosa's Event Manager at 805-782-0500 x157 or hholliday@tolosawinery.com.