Wine Clubs
Primera Tolosa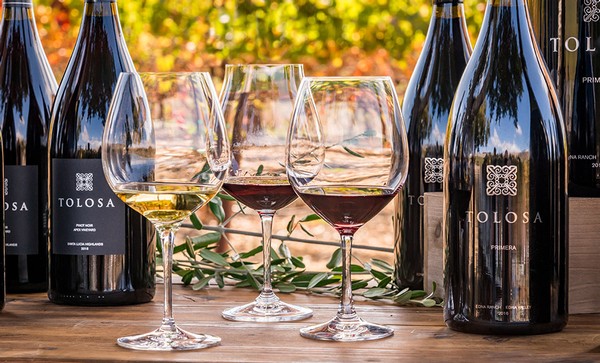 A membership for the true Burgundian wine connoisseur. Designed for collecting and cellaring, our most elite club enjoys guaranteed allocations of our flagship Pinot Noir, Primera and our small-lot Single Vineyard Pinot Noir and Chardonnay wines. Primera is a cellar selection of the best barrels of Pinot Noir from our estate vineyard, Edna Ranch: a rare lot that is a pure terroir-driven expression of Pinot Noir. Our Single Vineyard wines represent the highest level of dedication to handcrafting wine from the most sought-after vineyards in the premier Pinot Noir and Chardonnay regions of California, including our own Edna Valley. Primera Tolosa affords members the highest levels of service and access to an annual allocation of these exceptional, limited-production, handcrafted wines.
Receive
One 3-pack of each Single Vineyard wine and a 3-pack of Primera
Approx. Annual Price: $2,406
+ tax and *$1 shipping

Allocations will release each Spring. By invitation only.
*$1 shipping on green packaging (does not apply to allotments shipped in wood boxes).
Call to inquire more about our Primera Tolosa Wine Club at 805.305.9164
1772 Club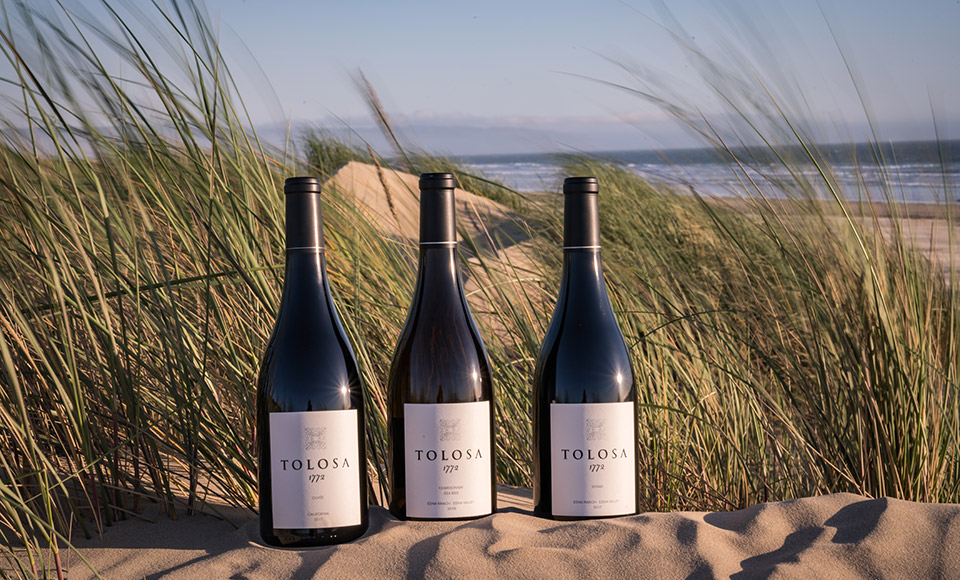 Tolosa is in the heart of Edna Valley, nestled amongst the northwest to southeast running volcanic hills of the San Luis Obispo Coast and the frontier for the most complex cool-climate varietals in California. Our Pinot Noirs and Chardonnays reflect the cold Pacific wind that sweeps down the coast and funnels into the valley, as well as the remarkable diversity of soil types: ingredients for nuanced and balanced wines of distinctive character. Our 1772 members secure an allocation of limited production wines of unique style and character.
Minimum allocation of 48 bottles per year
25% off on 1772 wines
$1 ground shipping on 12 bottle orders
Customization Available
Price: $558 - $668
per shipment + tax and
$1 flat rate ground shipping
Pricing of each club may vary.
Minimum allocation of 24 bottles per year
20% off on 1772 wines
$20 ground shipping on 6 bottle orders
Price: $298 - $356
per shipment + tax and
$20 flat rate ground shipping
Pricing of each club may vary.
Minimum allocation of 12 bottles per year
20% off on 1772 wines
Price: $150 - $178
per shipment + tax and
$30-$40 standard ground shipping
Pricing of each club may vary.
Already an active 1772 Club Member? Scroll down to Upgrade Options
To discontinue or pause your membership, please inquire here.
1772 Bonus Club Options
Upgrade Your Allocations
Once you become a 1772 Club Member you can upgrade your membership by joining one, or all of our 1772 Bonus Club options. These limited allocations allow 1772 Members access to club pricing on a limited quantity of wines that are otherwise sold at full retail.
Membership in the 1772 Wine Club will continue until canceled by you. You may cancel your membership at any time. You will be charged for each shipment of wine at wine club pricing for the wines included in that shipment, plus shipping if applicable. Information on upcoming wine shipments and pricing are available on our website. Your online sign-up verifies you are over 21 and authorizes Tolosa to charge your credit card for wine shipments, including any costs if your shipment is returned to the winery for reshipping.