Tolosa Barrel Bash: Hoops & Staves 2020
Sunday, June 21st Session 1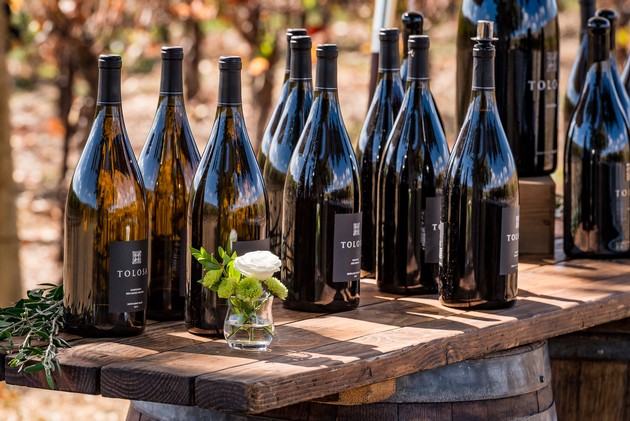 Tolosa's Barrel Bash: Hoops and Staves 2020
Sunday, June 21st
Session 1: 11am – 2pm
Join Winemaker Frederic Delivert, vintner Robin Baggett, and your favorite Tolosa hosts as we share the highly anticipated first tastes of the 2019 Single Vineyard Pinot Noir and Chardonnay wines. Join us for an exquisite 3-course lunch from K'Syrah and live music by Brass Mash on the Tolosa crush pad as we toast the arrival of the 2019 Barrels!
Apex Vineyard Pinot Noir Santa Lucia Highlands 2019 | Drum Canyon Vineyard Pinot Noir Sta. Rita Hills 2019 | El Coro Vineyard Pinot Noir Petaluma Gap 2019 | Gunsalus Vineyard Pinot Noir Green Valley of Russian River Valley 2019 | Hollister – Edna Ranch Pinot Noir Edna Valley 2019 | Solomon Hills Vineyard Pinot Noir Santa Maria Valley 2019 | Bien Nacido Vineyard Chardonnay Santa Maria Valley 2019 | Poletti – Edna Ranch Chardonnay Edna Valley 2019
Cheese Course
Premium Imported and Domestic Meats | Premium Imported and Domestic Cheeses | Local Seasonal Fruit | House made Jams | House pickled vegetables | House made artisan breads
First Course
2016 Bien Nacido Chardonnay
Caeser Salad with housemade Duck Egg Yolk Caeser Dressing
Rustic rolls with whipped butter
Second Course
2018 Drum Canyon Pinot Noir | 2018 El Coro Pinot Noir
Cedar Plank Salmon slow cooked on a cedar plank with dill, lemon, garlic, and EVOO
Roasted Rosemary Chicken, baked in a mixture of fresh lemon, rosemary, and spices
Roasted K'Syrah Farm Heirloom Carrots, Fried Fingerling Potatoes
Third Course
2018 Primera
Fudge Brownies with and without nuts
Fruit Cobbler Crumble with Lavendar
Primera Tolosa Member Pricing - $125 per person
Single Vineyard Purchasers - $150 per person
Advance reservations required for this exclusive event. Limited tickets available. Please call our Concierge at 805-782-0500 or click above to reserve your tickets.
All events have been redesigned to reflect the utmost in safety, social distance, and cleanliness as we navigate these times. Please note that these event dates may change due to unforeseen circumstances beyond our control. Please be sure to check the Event Calendar, as we will be updating information and changes as they occur. For more info please contact Holly Holliday, Tolosa's Event Manager at 805-782-0500 x157 or hholliday@tolosawinery.com